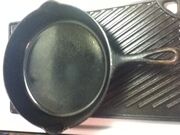 The Facebook page for the Cast Iron Cooking community. Come on over and Like us, and share your love of cast iron! Tell us something about your rugged iron pans, or some good food you've cooked in it, or a great iron score you found at a yard sale, flea market, or antique shop.
Cast Iron Cooking: http://www.facebook.com/pages/Cast-Iron-Cooking/217078104969894
Click on the categories below to read the contributions from the Cast Iron Cooking community, or to add your own:
You can cook anything in cast iron! Share your favorite recipe, whether it's simple or exquisite.
Useful tips for taking care of cast iron, including how to season a pan, how to wash a dirty pan, and even how to restore an old rusty skillet and make it as good as new.
Show off your iron! Post pictures of your cast iron pieces.
Link to your YouTube videos (and other videos) here.
Post interesting and fun stories and/or pictures of finding cast iron in unusual places: bargains, restoring an antique piece, or anything interesting and fun that you want to tell the world.
Points of interest and useful sources of information related to cast iron.